Job Description
Jon Holt Associates (JHA) contacted us because they wanted to work with a low cost and professional website designer company in Poole or Bournemouth. They told us that they liked the current design but wanted a few minor changes done to the website.
We provided the requested changes and they were pleased with the results, since then we have provided many other services to them and continue to provide ongoing support for their website.
About JHA
JHA is a multi-disciplined RICS Regulated company, serving specialist and customary clients on a local and national level. Jon Holt Associates works in association with J.M.Watts Commercial Property Agents to provide a full building consultancy service to small and large clients, covering all aspects of the built environment, from sketch design of extensions to new build through to handover, encompassing professional and legal building surveying duties.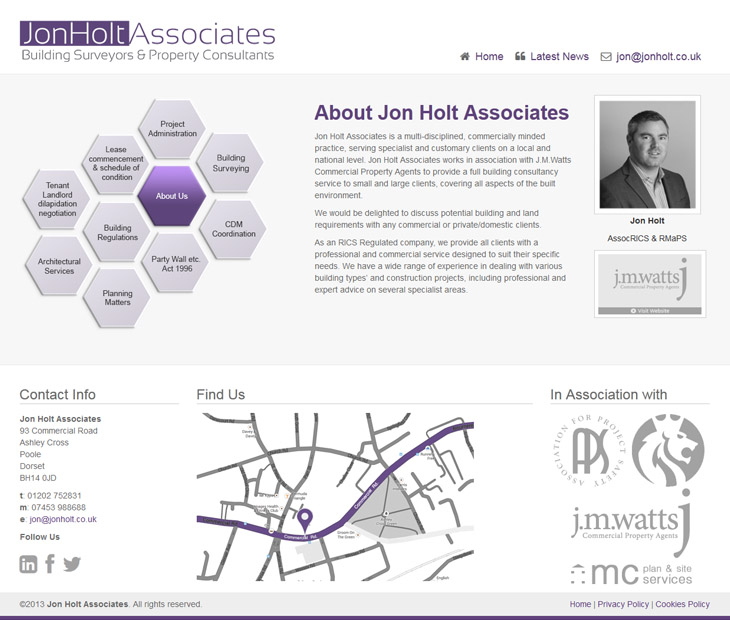 About the Design
Jon Holt's previous website was made using static HTML that used a WYSIWYG backend editor provided by the company that previously built their website design. We informed Jon Holt Associates that his business could save money in the long run by moving his website to his own hosting package and using WordPress.
We then moved their current design and converted it into a responsive friendly WordPress theme, allow them to edit and add content with ease, as well as sporting a blog that they could post about new projects. We continue to provide them with various web related services from website maintenance to helping them setup company email addresses through their hosting company.